Panasonic Open: Mukesh Kumar oldest to lift Asian Tour title
A total of nine Indians finished inside the top-10.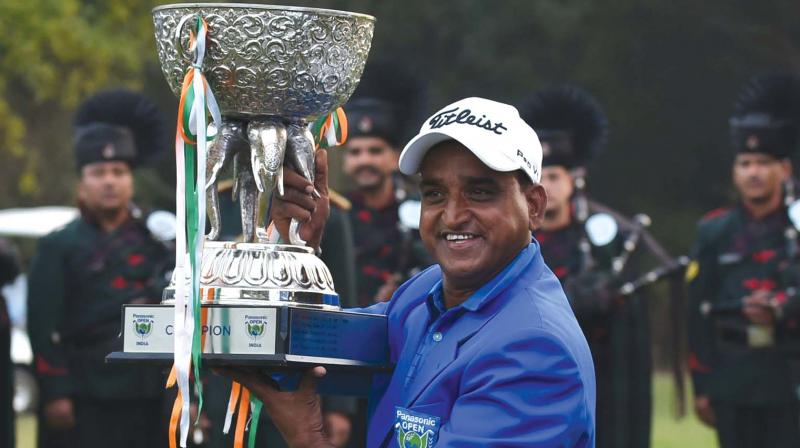 Mukesh, who headed into the third and final round with a two-shot advantage, closed with a two-under-par 70 for a winning total of 10-under-par 206 at the $400,000 event, which was reduced to 54 holes due to fog disruptions.
Mukesh's victory, worth $72,000, made him the oldest winner on the Asian Tour at the age of 51 years and 126 days. The home duo Jyoti Randhawa and Rashid Khan closed with matching 68s to share the second place at the Delhi Golf Club.
A total of nine Indians finished inside the top-10. Sri Lanka's Mithun Perera was the only overeas player in the top-10. He claimed the fourth place at eight-under-208.
Mukesh (67-69-70) delivered the knockout punch with a 70 to end up as the wire-to-wire champion. He had a slow start with a bogey on the third where he missed a short putt. However, birdies on the seventh and eighth and an excellent par-save from the bunker on the ninth helped him regain his confidence.
But it was the crucial 20-feet birdie conversion on the 15th that swung the game decisively in his favour. He finally made pars on the last three holes to become the fifth Indian in six years to inscribe his name on the trophy.
As a result, Mukesh not only became the 22nd Indian to win an international title but also bagged the fifth title for India in the current Asian Tour season, which has witnessed Gaganjeet Bhullar and S.S.P. Chawrasia notch up two wins each.
Last year's champion Chiragh Kumar took a share of 15th place at three-under-213.
Said Mukesh, "I am proud of myself. I have waited 32 years (since turning professional) for this. This means a lot to me. "It is my first international win. It is different from the 123 wins that I have had on the domestic tour earlier. This is a superb achievement for me. I have been waiting to achieve this."
Source by deccanchronicle…
loading...