'Make in India' to be important part of India-UK ties: Modi to Theresa May
The Prime Minster also highlighted UK's robust participation in helping India's aim to achieve Smart City mission.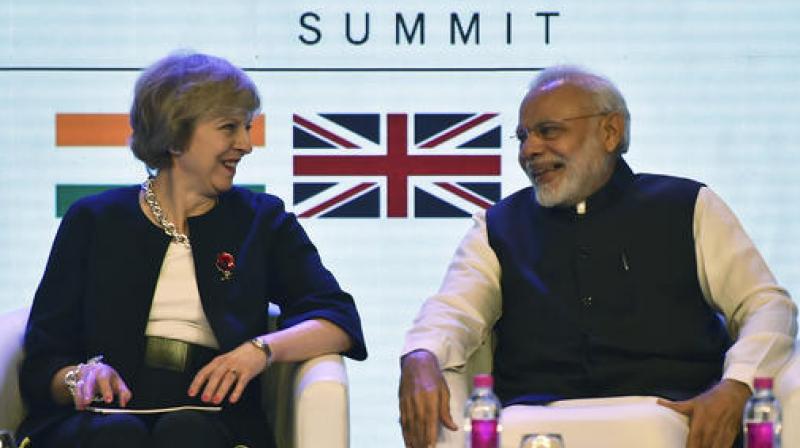 Speaking on the occasion, May said that India and UK share a special bond, and that there was huge potential for developing the relationship between the two countries.
Theresa May said Britain would become the ultimate free trade champion as she laid the groundwork for a potential post-Brexit deal with India, the world's fastest growing major economy.
In her first bilateral trip outside Europe since taking office in July, May said Britain would not "turn its back on the world" once it has left the EU but wanted new economic relationships that would benefit all sides.
"We want Britain to become the most committed and most passionate advocate of free trade in the world," May said in a speech to industrialists in the Indian capital.
"That is because free trade creates a rising tide that lifts all boats, it makes all richer, it creates jobs, it increases investment, it improves productivity, it transforms living standards and creates opportunities for all our citizens."
Although Britain cannot sign any bilateral trade deals until it has left the European Union — most likely in 2019 — May's visit is seen as signalling a desire to get the ball rolling as early as possible.
May said that "no country owes another country a living" but there were plenty of areas where Britain and India could work more closely together.
"Identifying … (areas of common interest) does not need to wait for us to leave the European Union."
Highlighting the importance of technology which plays a significant part in forging strong ties between New Delhi and London, Prime Minister Narendra Modi said it is vital for India and the United Kingdom, two countries linked by history, to work together to define the knowledge economy of the 21st century.
"A natural collaboration emerges in India's rapidly developing financial services sector. 'Fintech' is emerging as the next big transformation for India as we bring 220 million new households into the umbrella of the 'Jan Dhan Yojana'. This financial inclusion scheme is being melded with mobile technology and the unique identification card to form the largest social security program in the world," he said.
Speaking at the Tech Summit held at the national capital which aims to reinforce friendship between India and the UK, Prime Minister Modi said, "In the current global environment, our two countries face several economic challenges which directly affect trade and commerce. But I am confident that together we can leverage our scientific strengths and technological prowess to create new opportunities."
He said there is an opportunity for India and UK to collaborate in the 'Digital India' Program and expand information convergence and people centric e-governance.
"The convergence of my government's flagship development missions, our technology achievements and aspirations, and our strong bilateral relations offer huge new growth avenues for Indian and British industries," Prime Minister Modi said.
The Prime Minister said that with UK's leadership in financial technology and international finance, promising opportunities can be harnessed by Indian enterprises in this mission.
"India will soon have over a billion phone connections with an urban tele-density of around 154%. We have 350 million internet users. We are bringing in last mile connectivity to nearly 100,000 villages across the country. Such rapid growth offers new digital highways and new markets for UK and Indian companies to address," he said.
Prime Minister Modi further pointed out that 'Make in India' can be a key sector of bilateral engagement with U.K.
"Advanced manufacturing is a special endeavour under this program. UK as a leading player and can benefit from our liberal FDI policies in defense manufacturing, aerospace and electronics engineering," he said.
The Prime Minster also highlighted UK's robust participation in helping India's aim to achieve Smart City' mission and encouraged Brittan's participation in other fields as well.
"I am glad that there is already a high level of interest from the UK in projects in Pune, Amaravati and Indore. I understand that UK companies have already signed deals worth 9 billion pounds and I encourage more participation," he said.
Prime Minister Modi said India and UK have emerged amongst the top three largest startup hubs in the world with an exciting ecosystem of investors and innovators.
"Startup India' program aims at converging innovation and technology with entrepreneurship for our tech-savvy youth. Together, we can create a vibrant and thriving environment for new commercial applications with breakthrough technologies," he said.
"I believe that India and the UK must continue to nurture and support an ecosystem of high quality fundamental research to pave the way for joint technology development that can address global challenges," he added.
Source by deccanchronicle…
loading...