India v/s England: Murali Vijay bounces back in style
Having succumbed to short balls earlier in this series, India opener Murali Vijay has worked on them during the eight-day break between Tests and looks in great nick again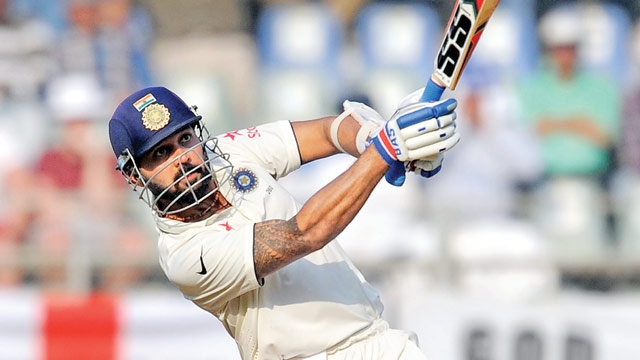 In the two net sessions that India had on the eve of the fourth Test, Murali Vijay kept one net to himself for a while each day to face a barrage of chin music with throw-downs from close quarters.
After a brilliant century in the first Test of the series in Rajkot, England found a pleasing chink in Vijay's armour: the short ball. In the ensuing two Tests, they peppered him with just that, and got him thrice in four innings with the weapon. The opener would get out either defending awkwardly or fending at a high ball outside the off stump.
A short break, two nets and a Test later, the chink seems to have diminished.
Vijay's first ball of his innings on Friday was a fullish one from Chris Woakes, which he elegantly drove on the up for four.
Gifts done, back to reality: England to Vijay.
The second ball from Woakes was closer to Vijay's nose, and he let it go without fuss. Next over, James Anderson was steaming in. Three slips, a gully, a short leg. The trap was set for Vijay. Anderson bowled two bouncers in the over, one under which the opener ducked and one in which he swayed away.
Vijay ducked another bouncer off Anderson in this challenging period. But it was in the final over of the England seamer's spell that would've made Vijay proud of the hard work he had put in over the last couple of days. In the first ball of seventh over of the innings, Anderson banged one short. Vijay dropped both his wrists and saw the ball zoom past his shoulders with his head and feet still. It was a textbook cricketing lesson on how to leave a short ball.
Once the pacers were done with their burst and the spinners took over, the Tamil Nadu batsman began to flourish, dancing down the wicket often. And except for a couple of mistimed shots over Adil Rashid's head, Vijay's knock of 70* was chanceless.
The man deserves a lot of credit for two things here: first, accepting that there was an issue and second, working that extra bit harder to address it.
"I think he played brilliantly," India wicketkeeper Parthiv Patel, who opened with Vijay in the previous Test and saw him get out to short-pitched deliveries in both the innings there, said here on Friday.
"After the break, we had a couple of net sessions and he looked really good. It's just about having a good mindset, and I thought he was very confident about it. Obviously, he had two-three dismissals in which he got out to short balls, and you could've easily said that he could've left it alone.
"But that's why he's one of the quality players in our team and has got a lot of runs in international cricket in the last one-and-a-half years. That's what quality international batsmen do. He went out and backed himself to get a lot of runs," Patel added.
Gifts done, back to reality: Vijay to England.
Source by dnaindia…
loading...