India v/s England: Anderson silent on pitch, loud off it
England's leading Test wicket-taker has been a pale shadow of himself, struggling on pitches that did not help his type of bowling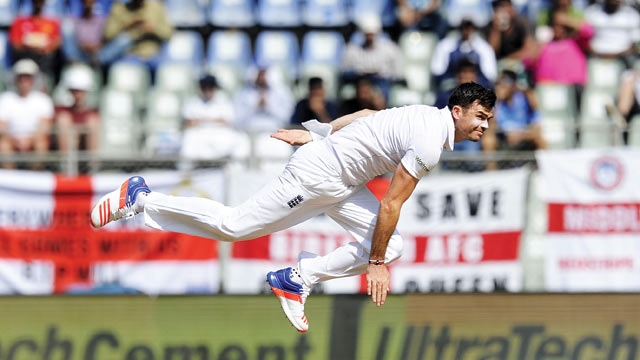 James Anderson has made more headlines for his off-field comments than his on-field exploits in England's tour of India so far.
At the start of the five-match series, much of the focus was on Anderson's fitness and how soon he could recover from his shoulder injury to add fillip to the visitors' bowling line-up. Towards the end of the tour, the seamer's comments about Virat Kohli's technical deficiencies and the subsequent altercation with Ravichandran Ashwin towards the end of the Mumbai Test have taken centrestage.
In between that, the 34-year-old has rarely been talked-about, and that's because he has remained silent with the ball in this series. England's leading wicket-taker's inability to trouble the Indian batsmen has been one of the reasons why the visitors have been unable to get on the board in this series.
There's no denying that England's success in the country in 2012 was due to the class of their spinners Graeme Swann and Monty Panesar. However, another bowler played a big part in that series victory for the Three Lions: Anderson.
Jimmy, as he is fondly called, picked up 12 wickets in the four Tests against India in 2012 at a strike rate of 63.33. His scalps were big ones too: Sachin Tendulkar, Virat Kohli, Virender Sehwag, Gautam Gambhir, MS Dhoni, Yuvraj Singh among others.
Four years on, the same bowler has cut a sorry figure in much the same conditions. Anderson has taken only four wickets in the three Tests so far at a strike rate of 118.50. All his wickets came in the second Test in Visakhapatnam, returning empty-handed in the subsequent two outings.
"I've been happy with the way I've bowled, to be honest. But I'm not happy with the returns in terms of the amount of wickets I've got. That happens, especially in these conditions. It's tough. I would have liked more wickets, but I'm relatively happy with the way I've bowled," Anderson said after the fourth day's play here.
It's not just about the numbers, though. Even during his periods of dry spells with the ball, Anderson rarely fails in troubling the batsmen, containing them with his masterful control and consistency while the others chip away with wickets.
But in this series, Anderson has failed to even build any kind of pressure on the Indian batsmen to help his spinners take advantage of that and pick up wickets at the other end.
Another key aspect that Anderson utilised with his mastery in 2012 was reverse swing. The Indian pacers have completely outplayed the English counterparts in this regard throughout the series, getting crucial breakthroughs with the reversing old ball. The experienced Anderson came up short here too, compounding the problems for England captain Alastair Cook.
"The difference is when you are bowling short spells while playing a holding role, you can attack a bit more as a seamer," Cook said while comparing his pacers' effectiveness in 2012 and 2016 on Monday. "You know you can throw the ball back to Monty (Panesar) in 2012 and bowl at perfect times. The new ball and reversing ball is when our bowlers bowled in 2012. It is quite similar to how India use their seamers. They bowl new ball and wait for it to reverse. Here, it is slightly different."
It indeed is, even for Anderson.
JIMMY'S TALE OF TWO INDIA TOURS
2012 2016
Mat 4 3
Wkts 12 4
Avg 30.25 53.50
SR 63.33 118.50
Best 4/81 3/62
5w/10w 0/0 0/0
loading...