Govt announces slew of sops to make India change its payment mode
Discount shower on digital highway.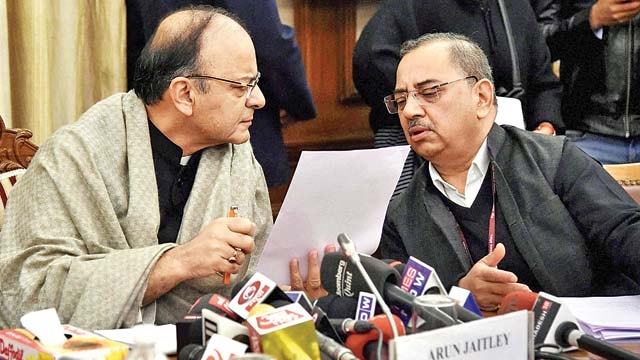 In all the liquidity crunch unleashed by demonetization, if you are feeling a bit technologically challenged, the government has now given you reasons to make that crucial switch in payment mode.
After sucking out over 85 per cent of cash by making old Rs 500 and Rs 1,000 notes illegal tenders since November 8, the government on Thursday announced a slew of incentives to boost the use of digital or electronic mode of payments. These sops are mostly in the form of discounts. For example, digital payment for petrol and diesel at government-owned gas stations can get you a 75 basis points (bps) off on the retail price.
So, at the current price of Rs 66.10 per litre in Delhi, you can save around 50 paise per litre. Finance minister Arun Jaitley has worked out the math well. According to him, the percentage of digital transactions at state-owned petrol pumps has doubled from 20 per cent to 40 per cent in a month. He said around 4.5 crore customers bought fuel worth Rs 1,800 crore at these pumps every day in the last month. This means transaction worth Rs 360 crore has moved from cash to digital.
Jaitley expects his discount offer to drive at least 30 per cent more customers to digital modes of payment, which will further slash cash usage at petrol pumps by Rs 2 lakh crore annually.
The government has offered other concessions like a 50 bps off on monthly or seasonal tickets on suburban railway network beginning January 1 next year, and a 5 per cent discount on catering, accommodation, retiring rooms and other paid services of railways.
In another major move, it has waived off service tax on the use of credit card, debit card, charge card or any other payment card for paying Rs 2,000 in a single transaction.
Online train ticket booking will fetch a passenger free accidental insurance cover of up to Rs 10 lakh and use of RFID or fast-tags will lower toll fee paid at toll plazas on the National Highway by 10 per cent.
Other measures include offering free point of sale (PoS) machines to 1 lakh villages with a population of up to 10,000, abolishing Merchant Discount Rate (MDR) on digital transactions for central government and PSU services, rental cap of Rs 100 for PoS terminals, micro ATMs and Mobil PoS, Rupay Kisan cards for Kisan cardholders and discount and credit by PSU insurance companies of up to 10 per cent of the premium for general insurance policies and 8 per cent for new life cover from Life Insurance Corporation (LIC).
Meanwhile, the National Bank for Agriculture and Rural Development (NABARD) declared that it will extend support to banks for deployment of two PoS devices per village in 1 lakh villages. The estimated cost of support will be around Rs 120 crore.
For those farmers who are already on RuPay Kisan Credit Card (KCC) platform, NABARD will now support procurement of Europay, Mastercard and Visa chips and PIN-based RuPay Kisan cards by regional rural and rural cooperative banks. NABARD will spend approximately Rs 108 crore to cover around 4.32 crore KCC holders.
"We believe that these two initiatives will have a positive impact in easing the transition to digital transactions," said NABARD chairman Harsh Kumar Bhanwala.
Naveen Surya, chairman, Payment Council of India, said the cost reduction that would accrue from the shift to digital modes of payment should be passed on to the end-consumers. "Benefits passed on to consumers will give a booster growth to digital payment companies," he said.
He called for more such incentives for other services like electricity or mobile bills, long-distance railway tickets and others. Jaitley said that the government was eventually aiming at making political donations payments also digital, like in many developed countries.
"This (incentives and demonetization) will certainly move India to less cash economy," he said.
Source by dnaindia…
loading...