Cyclone Vardah uproots Chennai; 9 killed in rampage, 10,432 relocated
Tropical storm hits peak speed of 150 kmph: cyclone fells 3,384 trees, 3,400 electricity poles.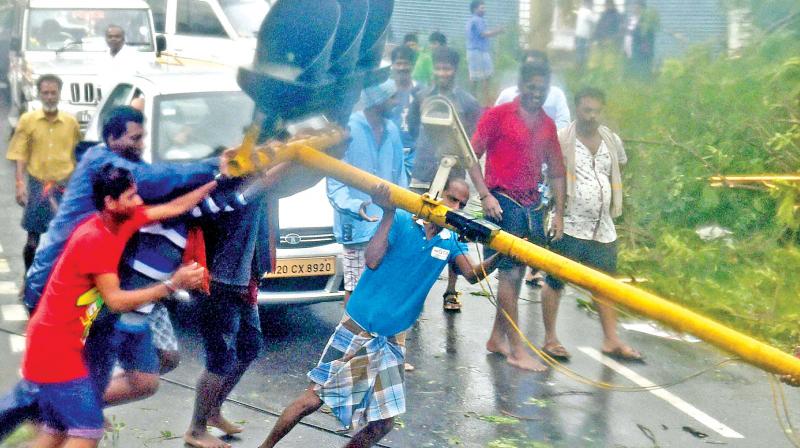 Vardah's trail of destruction and devastation was visible all over from Sriharikota in Andhra Pradesh to Mamallapuram in Tamil Nadu, a distance of 174 km, with several thousand trees uprooted in the area.
Officials in the Tamil Nadu Government and National Disaster Response force said that according to preliminary reports, there were at least 9 deaths, seven of them in Chennai.
One died in Kancheepuram and another in Nagapattinam, officials said fearing that the death toll could increase even as more than 10,000 people living in low-lying areas were moved to safety by authorities.
The only domestic and international airport in the metropolis shut operations from 11 am on Monday evening and the runway was not opened for flight traffic till the time of writing while suburban trains were cancelled due to gusty winds and buses went off roads for most part of the day.
Chennai, Tiruvallur and Kancheepuram districts were engulfed in darkness as Tangedco, the power distribution company, disconnected power supply as a precautionary measure in the wake of the cyclone.
Chief Minister O Pannerselvam said late on Monday night that restoration of electricity would begin midnight and complete restoration of power supply to all three districts would take one to two days. He also announced ex-gratia of Rs 4 lakh each to the kin of those who died due to the cyclone.
National Highways connecting Chennai with Bangalore, Kolkata, New Delhi and Mumbai suffered severe damage as powerful winds uprooted trees and signboards affecting traffic on these major highways.
"After 1994, this is the first very severe cyclonic storm to hit Chennai coast. The storm has completely crossed the coast as expected (this evening). The Cyclone Vardah hit the Chennai Coast at 2.30 pm and made its landfall near the Harbour at 6.30 pm. The maximum speed of winds was 150 kmph at one point," a senior MeT department official said.
As the Cyclone Vardah made its landfall late on Monday evening, Army rushed its personnel to Pulicat and Puzhal in Tiruvallur district, the worst affected by the cyclonic storm, to immediately begin the relief operations.
Personnel of National Disaster Response Force (NDRF) and State Disaster Response Force (SDRF) were involved in rescue operations along with the Army and police personnel. Civic workers used hand-held battery-operated woodcutters to remove hundreds of uprooted trees lying on the roads.
Source by deccanchronicle…
loading...