Beauty trend: Red lipstick rocks the red carpet
Red mouth seems to be the ultimate red carpet favourite this awards season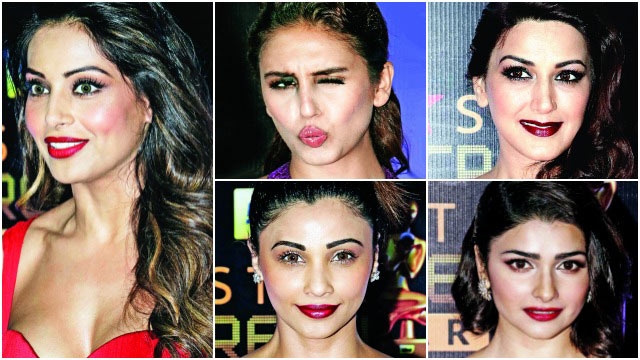 At a recently concluded awards night, a lot of actresses stepped out sporting bright red and ruby popsicle-tinted pouts.
Bipasha Basu and Kriti Sanon matched their ruby red gowns with a bold mouth in the same tone, Patralekhaa offset her emerald green gown with a pimento red lip. Sonali Bendre matched her maroon outfit with a burgundy mouth, Prachi Desai on the other hand too opted for the vibrant red lip. On the other hand, Sonam Kapoor, Huma Qureshi and Tanishaa picked pale pink. There may have been a divide between reds and pinks, but one can easily see red finding favour with most actresses. With so many awards nights around corners, we get make-up mavens to foresee the beauty trend…
It's all about bright red
Make-up artist Vipul Bhagat says, "This awards season is going to be about bright mouth. The bright mouth trend can be attributed to the fact that a lot of celebs don't want to wear too much eye make-up."
Vipul observes that given the fact that the stars are making so many appearances, they are beginning to feel the effect of too much make-up on eyes.
"For Manish Malhotra's party, a lot of celebrities opted for bright colours like Aishwarya Rai Bachchan and Falguni Peacock. Also, they're opting for matt and not gloss because matt does not bleed/transfer from your lips. When you apply a soft colour, say after a couple of drinks later, it just goes off and one has to go to the restroom to put it back."
He adds, "Red will not fade out. Popsicle wine colours, burgundy, Russian red and ruby red are all earth family tones and complement most red carpet looks. Personally I love red colours. It's like wine — you have to develop a taste for red."
Adds instant glamour
Make-up artist Clint Fernandes says, "The red and oxblood will be the mainstay rather than light pink which tends to make you look washed out on the red carpet. Unless you're Caucasian fair and your outfit is of a pastel colour then pink works with iridescent eye.
Clint observes that strong and overpowering tones of oxblood and deep tones glam up the face instantly and also hide most facial flaws.
"Let one thing shout, but let it shout well. For example, Huma's face is roundish and one's attention goes straight to the lip. Besides red, deep tones of violet and wine tones work well."
Avoid smokey eyes
Kapil Bhalla says, "I think red is such a classic colour and is definitely going to make an impact. I have seen some of the actresses sporting lighter lips, which is a fresh approach to make-up but it is limited to only a certain skin tones. Having said that, red is definitely big — be it oxblood, wine or plum. Avoid smokey eyes with red lips. Instead opt for sparkly eyes, winged eyeliner which works well or if you need to do more impactful eyes with red then opt for skin colour eye shadow."
Source by dnaindia….
loading...